Have you read a good book you think others would enjoy? Write a review and we will publish it on this page. Contact a librarian for more information.
Websites:
Teenspace is a fun and educational collection of websites just for teens, focusing on issues that matter most!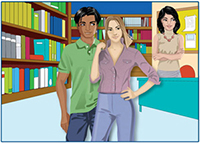 HeLOIS Graphic Novel Tutorial helps you learn essential library and research skills that will help you in finding information for papers and projects.
What's Next: Books in Series Database of Kent District Library-See what comes next in the fiction series you are reading.
Juvenile Series and Sequels (Mid-Continent Public Library)-Search over 36,000 books in 4,900 series with titles classified into three audiences: Juvenile Easy (Birth-2nd), Juvenile (2nd-6th), and Young Adult (6th-12th).
Use CliffsNotes literature guides as study aids to help you understand literature. Also find help for tricky classes and intimidating exams.
SparkNotes helps you understand different types of literature, write papers, and study for tests.
Teen's Top Ten is a "teen choice" list, where teens nominate and choose their favorite books of the previous year!
Quizlet is a free online learning tool that allows you to create digital flash cards or search user-created flash card sets. Mobile apps for iPhones and Android devices are also available.
Driving-Tests.org offers free practice tests for cars, motorcycles, and CDL based on the real DMV written exams.